Customer Reviews
Write a Review
Ask a Question
06/30/2020
Sandy P.
Canada
Love!
I really enjoy my new Abeego wraps. I feel great about moving toward a cleaner and greener way of living. I use the giant wrap to cover my homemade bread loaves! Would definitely recommend this size for loaves of bread and baguettes! Exactly what they are intended for! And also love that I'm supporting a Canadian company :)
We are so happy you are enjoying the magic of the Abeego Giant!
RW
06/27/2020
Rosemary W.
Canada
All that I wrap stays fresh and crisp and lasts a long time
Abeego wraps are handy and versatile. I wrap cheddar cheese blocks, big chunks of parmesan, and soft cheeses I buy for special occasions. They don't get moldy inside an Abeego cover, even if they stay in the fridge for weeks. A half lemon gets one of the smallest wraps, a big bunch of freshly pulled dill needs a large size, and basil, parsley, and other small stems stay fresh when wrapped and sealed with Abeego.I love the honey fragrance of the wraps, light and pleasant.I make the wraps into pockets, envelopes, or fold huge ones together to hold a massive fresh head of leaf lettuce cut whole from my garden. The leaves I don't use stay wholesome for another day or two - if they don't get snacked on! Mushrooms, strawberries, bowls of cut veggies prepped for soup or a stir-fry are all happier in the fridge with an Abeego covering. A long baguette, or a round of artisan bread - any bread really - stays fresh, too. Somehow the Abeego keeps it crusty on the outside and soft on the inside. My wraps are easy to clean; I just soak them for a few minutes in very cold water and lightly "scrub" them with a kitchen cloth that has the texture of a facecloth. I lay them out to dry or hang them over a hand cereal box! Abeego is made and supplied by some of the nicest folks I've met, and they offer personal and friendly service, too..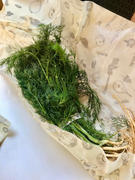 Rosemary, Thank you so much for sharing all of your uses for Abeego! It sounds like you are really using all of the different sizes of wraps in every possible way. We LOVE it. You're a true food-saving hero
06/11/2020
Edna F.
Canada
Very useful
I have every size of the Abeego wraps and most are in use every day. The giant size is great for wrapping home made bread and large celery stalks. Produce keeps much fresher with these amazing wraps. Highly recommended!
We love that you are getting good use out of the Giant - such a versatile size!